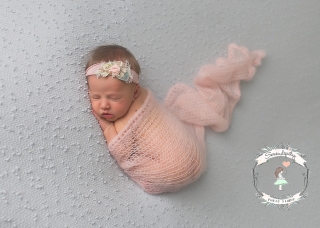 Newborn sessions are my specialty, I strive to give you a high end, custom newborn photography experience.  I realize this is such an important time and do my best to capture those first photos in a safe, artistic, and timeless way.
Your newborn session will take place in my studio, which is also my home. I'm so lucky we just moved in to a beautiful 120 year old Victorian home which has lots of character and room for a studio. Traveling to my studio might be one of your first trips out with your newborn so I've worked very hard to create a peaceful, homey experience for you.
For newborns I set aside 3 hours. I work at a very slow pace always putting your baby's safety first. At Meriter Hospital my company has taken photos of over 16,000 babies (not 16,000 photos, 16,000 babies!!) and I've done the lion's share myself. So I can absolutely say I have worked with 1,000's of babies and have learned their cues and that each baby is different. I am honored to be put in trust of your most prized possession and treat every baby as if they were my own.
I will work with you to style your newborn session. Most hats, blankets, outfits you see on my website are my own, I've got every color imaginable. If there is something special you'd like to include in your photo please let me know and I'll be happy to work with it.
At the end of your session I love to take family photos.  However please know that 80% of the session will be devoted to working with your newborn. If you require a bigger family session we can talk about adding an additional family session.
Thank you for choosing me to capture your first photos.
A lifetime of memories begins with Serendipity!